Library and Educational Services
Go Science DVDs
Ben Roy
price: $8.97 each or the set for $47.95
ages: 5-11 OR 6-14...explanation below

I have LONG been a fan of
Library and Educational Services
. LES has proudly supplied churches, schools, and libraries with affordable, wholesome products for over 30 years! They continue to be dedicated to offering you quality materials at 30% to 70% or more off retail prices! They have great materials and the BEST prices and have introduced me to many things I have not previously known about.
Go Science
is one of those things.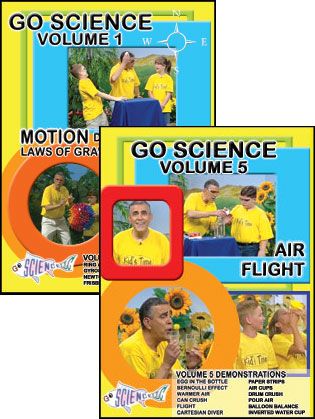 Go Science DVDs
are a set of 6 DVDs chock full of experiments on a variety of subjects. There are 6 DVDs in the series:
1. Motion and the Laws of Gravity
2. Simple Machines, Sound, Weather
3. Magnetism, Electricity, Engineering and Design
4. Chemistry, States of Matter Life Sciences
5. Air Flight
6. Water, Space, Solar System
LES allowed us to select two titles...we chose Volume 3 and 6.
The back of the video case says:
Even kids who claim an aversion to science will be engaged by the high-energy science demonstrations of Ben Roy! Ben teaches science methods at the University of Tennessee at Chattanooga and is the former director of a science program on television. With this expertise, Ben captivates, motivates, and inspires students to be excited about science, while providing effective instruction based on science phenomena. Each spectacular demonstration of physical or chemical science has a spiritual application and points to our Creator!
Ben Roy is a high energy demonstrator! My younger children really enjoyed these videos. So, about the age range...Go Science says they are geared to children from about 6-14...and LES puts the age range between 5-11...I felt that these were much better for the younger age range because there is not a lot of talk about WHY or HOW this works...and I think older children really want more information than what is presented. Even my younger children asked often...How does he do that...and me, being the science student I am had to say...I have NO idea!!!
I do love that we have access, so to speak, to experiments that we could never do...for instance, in volume 3 he uses an item called a Jacob's ladder...which I don't think you can run down to the local store to buy one of those...and if you could, you might want to reconsider that purchase because of the DANGEROUS qualities associated with it...BUT, we get to see one, what it does and have that wrapped up with a spiritual lesson...See for yourself
After seeing that demonstration, I do not feel like I need to recreate it at home...I get the concepts just by viewing it.
Demonstrations from volume 3 include:
Monster Magnets
A/C Electromagnet
D/C Ellecromagnet
Making a Compass
Static Electricity
Light Bulb
Jacob's Ladder
Conductivity
Solar Energy
Tesla Coil
Color
Cut Paper Halves
Heat Engine
Plastic Pre Forms
Demonstrations from volume 6 include:
Water Disappear
Boil Water in a Paper Cup
Properties of Water
Floating Balls
As Cold as Outer Space
Make a Rocket
Living in Space
Solar System
Centripetal Force
Each demonstration is 3-6 minutes long...so you can watch one and go learn more about that topic, or you can watch the entire DVD in one sitting...Each segment has an introduction "title page" if you will, so it would be very easy to stop and start in any spot.
The thing I think I loved most about these DVDs was that it made my children want to know more about these science topics. I think that Ben Roy, in these videos, really shows his love of science topics and that is contagious...and then he does these experiments and children want to know more about those subjects and their Creator....God...
See what my fellow crew mates have to say about Library and Educational Services and Go Science DVDs
here
Disclaimer: I received this item for the purpose of writing a fair and honest review. I received no other compensation. All the opinions expressed are my own.