Academic Success for All Learners: I See Sam Little Books
Price: $30 per set
Grades: Kindergarten-3.6

I See Sam Little Book Sets
are the result of research programs conducted at Utah State University. The "Little Books" program is a sequence of 141 color coded books. There are 8 sets of books from Kindergarten to 3.6 reading level. Each set contains up to 27 books. You can see the
Anatomy of a Little Book
to get a good feel for how the books work and there are also several
free resources
Scope and Sequence
DD started at the very beginning...set 1 book 1 as he knew all of his sounds, but was having difficulty translating that into reading words...he would often (and still does) read sounds not in the words...so Sis can be sit...or me is my...things like that...we have not progressed very far into the set yet (we are on book 7), as he is still making these decoding errors, but he is LOVING reading and letters put together all of a sudden have new meaning to him and he often tries to sound out words...not at all deterred when he is incorrect, but keeps trying.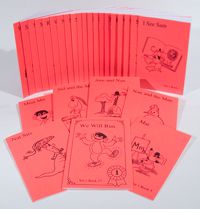 The books begin with sound practice and word practice and then go on to the story segment. Many pages of the book have small notes at the bottom with questions to ask or a smiley face for praise...when DD sees this smiley, he leans in for a kiss...a great reward for his hard work. The print is large enough for small eyes/new readers to track well and the illustrations are simple and enjoyable. The end of the book showcases Coming Attractions...new sounds and words to be introduced for the next book.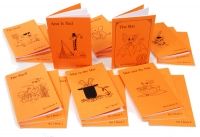 DD also LOVES these stories...they are funny to him, the pictures amuse him and the questions at the bottom of many pages keep him focused on understanding what is happening. He enjoys re-reading books he has already mastered and it is a joy to watch him enjoy them. One amusing thing he is trying to grasp is inflection of voice when reading while figuring out what to do with punctuation...While I might not be able to convey this in my post, it is so sweet to hear him read, "I
SEE!!!!!!!!!!
" Emphasis MINE...as he will read the word "I" normally and then put an extraordinary amount of excited emphasis on the word "See"...He is trying to place all of the pieces and I find it so sweet in all of the five year old, almost six year old joy. Letters are beginning to have meaning as they sit together in written words and he boldly is attempting to figure it all out while I get a participate as a spectator.
While I really do LOVE these books and will probably order more sets as we progress (We were given sets 1 and 2 for this review), I wish they were a little more sturdy...with maybe laminated covers. We will just be careful with them when handling them, which teaches children to be careful with books in general...definitely a good thing with our frequent trips to the library!
See what my fellow crew mates have to say about I See Sam Little Books
here
Disclaimer: I received this item for the purpose of writing a fair and honest review. I received no other compensation. All the opinions expressed are my own.