A Few of My Favorite Things
When the dog bites, when the bee stings, when life just spins out of control…
Well, these are a few of my favorite things to share with you this month.
Home
Our fridge went out a while back and we worked with our small garage fridge for quite a while; but, we finally bit the bullet and got a
new-to-us fridge
(like our old one) on Craigslist. It was a bit scary, but PRAISE GOD all is well. (I'm very thankful we have had no issues;it is seriously stressful buying an appliance from Craigslist.) So, because they graciously agreed to deliver it for a small fee (SO WORTH IT) and my hubby was at work, we just slid the other fridge over. When he got home, he was going to take the smaller fridge back out, but I talked him into leaving it. I have to tell you, I LOVE having 2 refrigerators in the house…crazy, I KNOW…but it just makes me happy!
Church/Bible Study
My all time FAVE is BSF, but as it is drawing to an end for this year, I am looking forward to trying something new and keeping an old favorite. The New is a Journal Doodle Study in John by Kari Denker at
Stone Soup for Five
.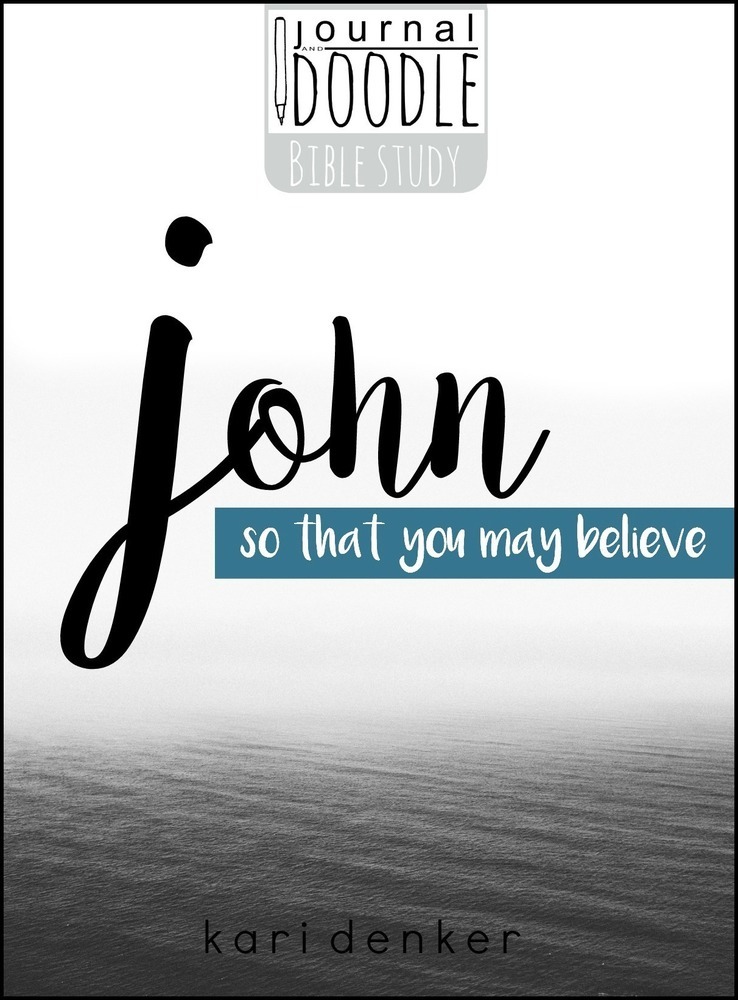 I have not tried it myself yet, but I have heard wonderful things about it so far! The Old is this year's
Sword Study
. I don't think that this year's study has been revealed yet, but I have REALLY LOVED these. Last year we studied Ruth! It was a wonderful study! What I love about Sword Study is that everyone studies the same thing at the same time, just at their level and it is structured for daily study...similar to BSF, and yet so different too!
Car
We are in a season of EXTREME BUSYNESS and are in the car a lot. That means meals and snacks in the car. That means drinks in the car. That means not everyone has a drink holder and crackers get crushed on the floor. One of the BEST things I have found to remedy this are these
three compartment cubby holders
.
These have a section that's perfect for a drink, and then a spot for a sandwich or burger, and another smaller spot for fruit, fries, crackers, etc. Absolutely LOVE these for the car! Oh, and I got mine at the Target One Spot section for $3. Gotta LOVE THAT!
Work
As a
Designer with Origami Owl

,
a distributor with Young Living, the church secretary, Homeschool teacher, wife and momma, I have two tools that I use together to
TRY
to keep me all together. The first is the Cozi App on my phone...My friend Chloe talks about this all the time and she loves it...the part I really like is that you can set it up to email the schedule out to people...so every week, my husband gets the 411 of what is going on in our home...IF I happen to remember to enter it!
School
So I promise NOT to talk about
My Home School Grades
or
The Ultimate Homeschool Planner
again. My favorite thing for school right now has to be something my 4th grader is using. He is behind in math and we have been over and over the concepts. So FINALLY, I broke down and purchased
the kit for Math from Bob Jones' Press Distance Learning
. This is actually our second year using it! He just struggled quite a bit with some beginning concepts, that we decided to try this. So the entire math kit plus DVDs with a teacher teaching the lesson arrived at my doorstep. SO WORTH EVERY PENNY. Do not be afraid to go back and keep doing work that is below where they SHOULD BE. My boy is FINALLY GETTING IT and we are working through it quickly which is a HUGE BLESSING! We are also speeding up the video a little to cut down the time. Since he is older, he does not need as much time and just about everything is repeated a few times. Sanity saver right there. The price is high, around $300, but I like to think of it as an investment in my child's success…we won't always need it, but right now we do.
A new thing that I am so excited about for next year is
Erica's
Classic Literature Volume 1. This looks like a lot of fun and I can 't wait to dive in next year! This particular
volume
covers family favorites such as Alice's Adventures in Wonderland, Mr. Popper's Penguins, Little House in the Big Woods, Treasure Island, Stuart Little and more! It is certainly hard to choose just one volume, so we will probably go back and get another one for the following year.
Food
Bahn Mi
(pronounced Bun Mee) has got to be my number one favorite new Food. A mix of light crispy bread with savory and sour and hot. These Vietnamese sandwiches are a delight. If you can get one in your neck of the woods, let me encourage you to try one…And NOW you know how to say it! If not, they are pretty easy to make at home too! We got this
book
( I am not an affiliate!) and love the grilled lemongrass pork version on page 84 of the book. We buy rolls that are a good substitute and use grated carrot to make the daikon carrot pickle. A little bit of work, but so worth it!
Kitchen Basics Broth
– Best store bought broth ever. If you have ever opened up a container of the brand everyone knows well and then a container of Kitchen Basics, you can totally see the difference. Homemade is ALWAYS best, but this is a very close second!
Health
As a distributor/member with Young Living, I love being able to have some wonderful natural items to use for our everyday needs. My favorite here is
Thieves Oil
. This is a heavy hitting essential oil that I believe has contributed to us being free of most of the junk that has been going around. I LOVE, LOVE, LOVE Thieves Oil! There are many Thieves Oil products to love too – like Lozenges, hand sanitizer, toothpaste, concentrated cleaner, and mouthwash.
Another favorite just so very close behind is
Ningxia Red
. This is a power super blend that I use to enhance wellness. Everyone loves the taste and lines up for shots of it in the morning.
My favorite things often change with the wind, but this is my list for today!
Keep pressing on and looking up and giving thanks always!
Originally Posted at Home and School Mosaics