Pearson Homeschool
enVision Math 4
Price: $99.99 for the bundle, see website for individual pricing.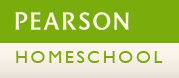 Envision a math program that engages your child as it strengthens their understanding of math. enVisionMATH uses problem based interactive learning and visual learning to deepen conceptual understanding. It incorporates bar diagram visual tools to promote problem-solving skills, and it provides data-driven differentiated instruction to ensure success. Math takes on a new aspect for your child as they make the connection between classroom concepts and real-world problem-solving. They will learn more than one way to solve a problem, focusing on the process — not just the solution.
enVision Math
is organized by math topics contains daily lessons that provide a Visual Learning Bridge, teaching math concepts step-by-step with purposeful, sequential illustrations while connecting interactive learning with guided and independent skill and problem solving practice.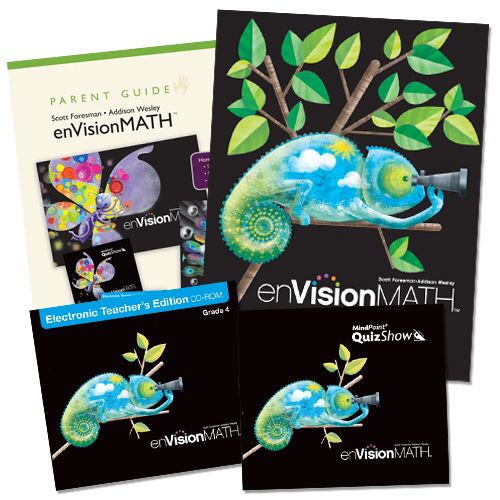 We received the 4th grade bundle which includes the Student Edition, MindPoint® Quiz Show CD-ROM, and Teacher Edition CD-ROM.
The Principessa is a little behind in math and so I welcomed the chance to give her more practice in math. The package arrived and the materials are very colorful and eyecatching. The Student text makes you just want to sit down and browse through it...it has so many interesting things to look at.
Pros and Cons will most likely be mixed together as I walk through our experience with
enVision Math 4
.
The topics of the fourth grade book are:
Topic 1: Numeration
Topic 2: Adding and Subtracting Whole Numbers
Topic 3: Multiplication Meanings and Facts
Topic 4: Division Meanings and Facts
Topic 5: Multiplying by 1-Digit Numbers
Topic 6: Patterns and Expressions
Topic 7: Multiplying by 2-Digit Numbers
Topic 8: Dividing by 1-Digit Divisors
Topic 9: Lines, Angles, and Shapes
Topic 10: Understanding Fractions
Topic 11: Adding and Subtracting Fractions
Topic 12: Understanding Decimals
Topic 13: Operations with Decimals
Topic 14: Area and Perimeter
Topic 15: Solids
Topic 16: Measurement, Time, and Temperature
Topic 17: Data and Graphs
Topic 18: Equations
Topic 19: Transformations, Congruence, and Symmetry
Topic 20: Probability
There are anywhere between 4 to 12 lessons under each topic. You may choose your own pace going very quickly through the places your child gets it...and slowing way down in the places where they need a little extra help. There are tests and reteaching lessons as well. The book is hardback and non-consumable, which is nice if you have many more that will use the book. There are A LOT of pictures and diagrams in this book, which is really great for visual learners.
The Teacher's Guide is on CD Rom, which cuts down the cost and gives you the flexibility to customize what your child needs by printing out worksheets, but I really prefer a hands on teacher's guide personally so that we can sit side by side or face to face while learning the concepts. I did not have the option of printing pages off, so I had my back to my daughter as I read parts of the lesson, then walked to the white board, etc. It was just awkward in our particular situation.
The Mind Point Quiz Show is a fun game where the competition aspect makes you forget...this is school. Students can play in a beat the clock type way or play against the computer. The packaging says that they can also challenge other students or play in teams. We did not try that part out.
The biggest challenge we had with this curriculum was that I should have gone down a grade because the Principessa was behind some...so we had quite a bit of frustration because of that.
Check out what my Fellow Crew Mates think of enVision Math or the other products that Pearson Homeschool offers
here
Disclaimer: I received this item for the purpose of writing a fair and honest review. I received no other compensation. All the opinions expressed are my own.