Heritage History
British Empire
$24.99 or the Complete Library for $99.99
I LOVE history and enjoy reading, so this product was really, made for me...
Heritage History
is an electronic library and has a collection of hundreds of books available to read at affordable prices.
Heritage History promotes traditional narrative history curriculum for homeschool. Our online library contains biographies, legends, adapted literature, and introductory histories. All were written for the general reader and are easy and enjoyable to read. We developed the Heritage website with the intention of helping to repopularize old-fashioned narrative history. We believe that the current trend of teaching Social Studies rather than history to young people is unfortunate, not so much because it is politicized, but because it is boring. Too many students leave school with a vague disinterest in history because it was never presented in an engaging manner.
At Heritage History, we seek to promote, not so much the study of history as the enjoyment of History. By making available old-fashioned history, as it was enjoyed as a pastime rather than studied as a subject, we hope to help reawaken the interest of a new generation.
You can find out more about Heritage History
here
and
here
...there is SO much information on the website...please take some time to look it over.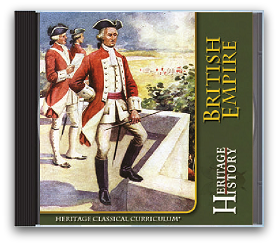 We received the British Empire CD to review. I had my children load them onto a Kindle for me, and then I forgot all about the disk for a while...but do not do that...there is SO much on these disks. The disks have maps, timelines, different reading resister sheets, geography terms, an electronic user guide (tells you how to get the books onto your reading devices...a MUST have for me!!!), a curriculum planning guide (shows how to plan your year) and a Study Guide (a 127 page guide for you to use...there is SO much in here content wise...a WONDERFUL resource!)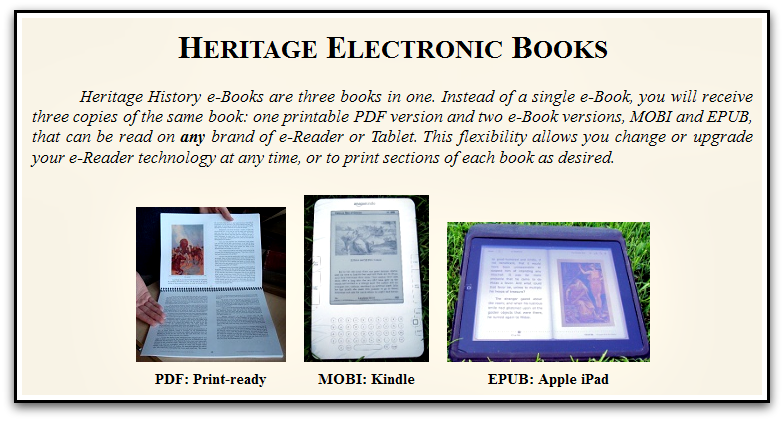 The books were very interesting to read and all of my readers were able to read something. We all enjoyed the books we read. Many of us found we wanted to know more, so that encouraged more reading in this time period.
I personally prefer reading LIVING BOOKS as opposed to the text book way of learning history. I think the retention of information is greater, and the material is certainly more interesting. History becomes about real people doing real things rather than just a bunch of facts to be memorized. We really LOVED
Heritage History
and look forward to adding other titles to our library at home. I LOVED how flexible this was to use in our home...use just the books or all the resources on the disk. One nice thing about the CD-Rom is that when it opens, it looks just like the website...gives a nice continuity to it.
Not sure if it is for you? Try a title
here
for $1.99
See what my fellow crew mates have to say about Heritage History
here
Disclaimer: I received this item for the purpose of writing a fair and honest review. I received no other compensation. All the opinions expressed are my own.