See-N-Spell
Recommended for grade 4 and up
Price: $9.99
Ever had this scene go on in your home? "Mom, how do you spell xyz?" Mom says, "Go look it up in the dictionary," Frustrated child says, "How can I look it up IF I DON"T KNOW HOW TO SPELL IT?"

Well, now there is a tool to help with that problem...it is
See-N-Spell
, a 40 page booklet that has 300 of the most commonly used American English words in it. From See-N-Spell's website:
Writers typically possess a larger everyday spoken (social) language vocabulary than written academic language vocabulary. They might know the sound of the first letter, the first few letters in a word and/or can recognize the word in print but still not be confident about how to spell the word correctly. These writers often misspell or, to avoid misspelling, choose simpler words that do not clearly express their thoughts or develop their language skills (e.g., choosing the word "hard" rather than "difficult").
The
See-N-Spell
booklet is arranged into three sections. The first section is an alphabetical listing of the words organized into the type of word it is...so for the letter C, your child is looking for the word creature and sees that creature is a NOUN...I really LOVE that aspect. They are learning grammar and spelling at the same time!
The second section is an alphabetical listing of commonly misspelled words. So words like apparent, correspondence and indispensable are listed on these 4 pages.
The last sections is for your special interest words...say someone is into archaeology (which I DID have to look up because it is not in the book...you have a place to put it so you can find it when you need it.
Sample Page
What I LOVED about this:
At first, I didn't really understand how to use this...I thought it was a tool to TEACH spelling, and it is...just in a different way. When I understood how to use it, I thought, that is SUCH AN EXCELLENT IDEA...so I left it on the table and frequently referred my children to it. My 10 year old principessa used it the MOST and it was very helpful to her. She was able to understand what to do with it with very little instruction, which is MUCH EASIER than sitting down with a 4 inch thick dictionary that has 3 columns. I think this product is VERY WELL WORTH THE PRICE just on that point alone. I was also able to look at work she did that was spelled incorrectly (in workbooks or just written work) and have her find the correct spelling in the See-N-Spell booklet. MUCH EASIER than the dictionary! My older boys were able to use it as well and it was much quicker than getting out the dictionary. COOL TOOL!
What was a challenge:
This is a small booklet...so there are not A LOT of words in it...these are commonly used words, so you will find many words in it...but not everything you need, so do NOT get rid of your dictionary. Also, again, because it is smaller (it is the size a a sheet of paper, but very thin), it can disappear quickly under a stack of books...I often had to ask where it was. I think that it would be great to have a place where you leave it and it always goes back there...I think I will put my copy between our computer hardware (I keep our math software there)...that counter is kind of like my command center. While these were challenges for me personally, I do not think that it detracts from the value of the product at all.
BONUS! When you purchase the
See-N-Spell
booklet, not only do you get a wonderful tool, but you also get another wonderful gem called the See-N-Read reading tool. From the website:
See-N-Read's clear reading window (ReadBar™) is surrounded by a non-glare tinted transparent finish, allowing readers to see text in "chunks" instead of as individual words. This controlled visibility helps readers to focus on the information being read in the clear ReadBar™ while simultaneously tracking ahead to upcoming information using peripheral vision. Unlike opaque reading guide strips, See-N-Read® enables readers to make smooth line-to-line transitions without stopping (i.e., "sweeping"), thus enhancing reading fluency.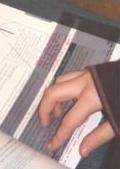 Growing up dyslexic, I could see what a wonderful tool this is. The one I received was mostly a translucent gray color with one clear line. It helps the eye to focus one one line of text, while you can still see above and below, but the eye doesn't skip or jump around. I think this is great for students who have tracking issues and for beginning readers. They start at about $2.99 each and come in a couple of sizes (5.5 x 3 inch or 8.5 x 3 in) and packages. The 8.5 x 3 in was included with the See-N-Spell booklet.
See what my fellow crew mates have to say about See-N-Spell
here
Disclaimer: I received this item for the purpose of writing a fair and honest review. I received no other compensation. All the opinions expressed are my own.