The World's Greatest Stories
George W. Sarris
Cd or Cassette Tape Format
NIV or KJV
$7.95 each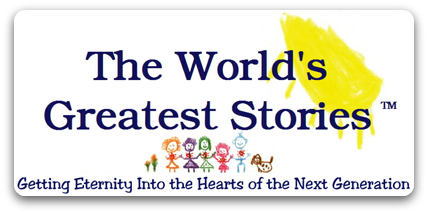 Ok...I am going to state RIGHT up front...I LOVE THIS PRODUCT. We received
The World's Greatest Stories
Volume 1, The Prophets to review and the MOMENT I put this CD in, I was HOOKED...
There are SO MANY things I LOVE about this...which I will go into in a moment.
First,
The World's Greatest Stories
CDs (or tapes) are actual, word for word dramatizations of Scripture...there are no paraphrases, so subtle changes of things to make it more "palatable" or understandable for children...it IS God's Word! And...you can have your choice of KJV, which many love for the way the words flow...or because it was what they grew up with, OR NIV...which is what I received.
Then, Mr. Sarris actually MEMORIZES the portion of Scripture that he is dramatizing...his website says it better than I can, so: "That is what gives the stories such power. Mr. Sarris is not just reading the text. He has carefully thought through and meditated on the subtle nuances of the stories to understand them and make them come alive." Let me tell you...these really do seem to come alive...many different voices and background effects combine for a truly wonderful effect...Mr. Sarris is a joy to listen to...his voice flows in such a nice way...even when switching from the different people he is dramatizing...I did not notice anything but smooth transitions...for me, that was beautiful. Then, there are the actual voices he brings to the characters...the drunkeness of Belshazzar, or the RAGE of Nebuchadnezzar, the prophets of Baal calling for Baal to hear, or the fear in Jonah...you can actually feel and hear the Word. It is amazing!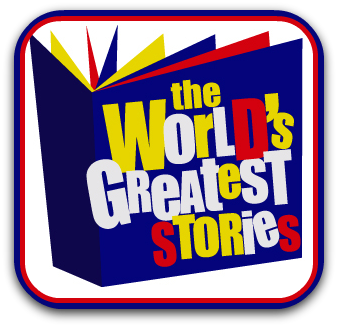 There are 6 volumes available right now:
1- Prophets
2. The Life of Christ
3. Beginnings
4. Joshua and Esther
5. Joseph and His Brothers
6. Defeating Giants
There is also another item on the website: The Real Story of Easter
One thing I might suggest when listening to these CDs...it might be a good idea to listen to one account from the CD, say The Blazing Furnace, and then turn off the CD for a little bit. That would give everyone the chance to think about what they had just listened to...I found that if I just played it straight through too much, everyone just tuned out.
The World's Greatest Stories
proves, in my opinion, that we do not need to water down the Word in order for children to enjoy listening to the Greatest Stories ever! Check it out for yourselves and see what you think (these are AUDIO CDs, but I found this video of Jonah on YouTube)
See what my fellow Crew Mates had to say about The World's Greatest Stories
here
Disclaimer: I received this item for the purpose of writing a fair and honest review. I received no other compensation. All the opinions expressed are my own.