The Person I Marry
(Bower Books)
Hardcover- $11.99
Gary & Jan Bower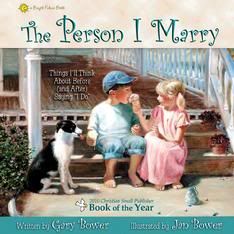 This is a lovely little book created by husband and wife team Gary and Jan Bower. Gary writes about qualities that make for a good spouse in a memorable rhyme while Jan illustrates each page with heartwarming pictures that cause children to link the words with what that point or trait looks like. Many of the subjects in the artwork come from her own family...I love that!
The Person I Marry from Bower Books on Vimeo.
I think the thing I love best about this little book is that it gets families thinking about the true standards for a spouse long before you get to that point. The Book,
"The Person I Marry"
lends itself very well to conversations about what kinds of things to look for in a spouse and gives lots of character traits and examples. This book is good for both boys and girls. We received a digital copy of the book, so I set my principessa on one side and DD on the other. With a wedding coming up this weekend, I thought this would be a great time to get their minds thinking about their future husband or wife. They both really enjoyed reading the book and loved all of the pictures. We had some small discussions about husbands and wives, using the upcoming bride and groom (J & S) as our examples. I think this would make a WONDERFUL gift for so many different occasions...maybe for a flower girl or ring bearer...I love that this book came at this time, when we have a wedding to look at and talk through what we read.
I think this book could be appreciated by the entire family. I know I am looking forward to getting a copy for my family.
2010 Book of the Year Christian Small Publisher Association, you can read what others say
here
, Gary and Jan Bower have other books available as well...What Do Heroes Wear? and Mommy Love are just a couple of the titles available. Want to give your book that EXTRA special touch? Get it autographed...just ask at checkout and Gary and Jan are happy to do that. With free shipping on orders over $30, you might just find a few titles you cannot live without.
Check out what my fellow crew mates have to say
here
Disclaimer: I received this item for the purpose of writing a fair and honest review. I received no other compensation. All the opinions expressed are my own.
Blessings,
C~